Your keyboard, mouse, and headset are your primary connections to your PC and so as much as possible, you want to get only the ones that best fit your gaming needs – and your budget.
Logitech understands gamers, and that's why it has come up with a back-to-school offer that not only provides you with an unbeatable chance to bring up your level of play but also saves some moolah for your next gadget shopping spree!
Introducing the Logitech 8.8 Back-to-School Sale on Lazada, which features jaw-dropping discounts of up to 30% on a wide array of products! Whether you're a pro, an amateur, or simply a game enthusiast, you'll surely love Logitech's premium offerings this month as they provide you with the perfect tech companion in your gaming journey.
From cutting-edge wireless mice to sleek mechanical keyboards and immersive headphones, discover a world of high-performance gadgets at irresistible prices. Unlock exclusive vouchers for additional savings and enjoy the convenience of free shipping on select items.
G435 Lightspeed Wireless Gaming Headset: Featherlight Comfort and Immersive Sound
The G435 Lightspeed Wireless Gaming Headset in Black offers featherlight comfort and powerful, clean sound—a perfect companion for gaming and music enthusiasts.
It's not just a gaming headset; the G435 plays games, music, and connects with friends across PC, phones, and more. Crafted with 22% recycled plastic, Logitech shows environmental responsibility.
LIGHTSPEED wireless tech provides high-performance audio, strong connectivity, and extended battery life, with up to 10 meters of range on PC, Mac, PlayStation® 4, and PlayStation 5.
Experience high-fidelity sound with 40mm audio drivers and compatibility with Dolby Atmos, Tempest 3D, and Windows Sonic.
Enjoy 18 hours of wireless freedom with the lightweight design weighing only 165 grams. Breathable earcups keep you cool, and memory foam padding enhances comfort and sound absorption.
Built-in dual beamforming microphones ensure crystal-clear communication, reducing background noise for an immersive gaming and audio experience.
Logitech G733 LIGHTSPEED: Elevating Gaming with Performance and Personalization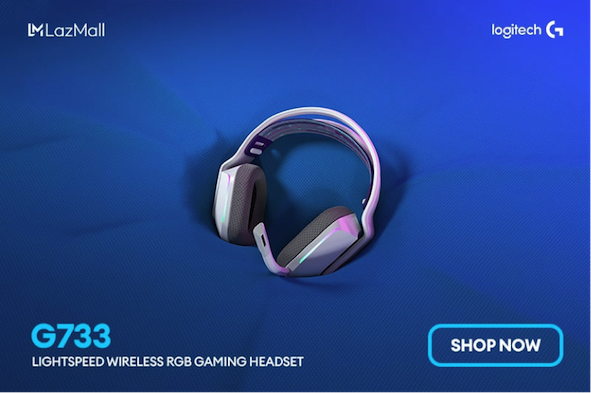 The Logitech G733 LIGHTSPEED Wireless RGB Gaming Headset delivers performance and comfort, transforming gamers' virtual experiences. With LIGHTSPEED wireless tech, enjoy over 29 hours of battery life and reliable freedom up to 20 meters away.
Personalize your setup with 16.8M colors and two lighting zones, easily programmed via G HUB software for stunning animations or presets.
The G733 LIGHTSPEED offers customizable accessories like reversible suspension straps and mic covers for endless enjoyment.
Featuring Logitech's PRO-G drivers, it ensures precise and immersive sound, enhanced by next-gen DTS Headphone:X 2.0 surround sound and Discord Certified audio for crystal-clear communication.
Weighing just 278 grams and with dual-layer memory foam, the G733 White guarantees prolonged comfort. The adjustable suspension strap headband ensures a seamless fit.
Elevate your audio experience in gaming, music, or communication with the G733 White's rich and cinematic sound.
Logitech G Pro X Keyboard: The Ultimate Choice for Tournament-Grade Performance
The Logitech G Pro X Keyboard sets the standard for excellence with its tournament-proven design and swappable pro-grade GX mechanical switches, available in Clicky, Tactile, and Linear options. Crafted in collaboration with esports athletes, it conquers any gaming challenge.
The PRO X offers a compact design and user-swappable switches, perfect for high-stakes tournaments. Its tenkeyless layout allows precise mouse movement and easy packing for global competitions.
Customize lighting and animations through Logitech G HUB software. Save static lighting designs to onboard memory for tournament systems.
The detachable micro USB cable ensures safe transport, providing a quick, secure connection. Rubber feet and three-step angle adjustment enhance stability and comfort during intense gaming.
The Logitech G Pro Keyboard empowers esports professionals and aspiring gamers alike, representing excellence in the gaming world.
Logitech G Pro X Gaming Headset: Engineered for Esports Pros
The Logitech G Pro X Gaming Headset delivers next-gen 7.1 surround sound and PRO-G 50 mm drivers for premium gaming audio. Designed with and for esports professionals, it features BLUE VO!CE microphone technology for clear voice communication.
The memory foam ensures lasting comfort, while the sturdy frame offers durability and style. DTS HEADPHONE:X 2.0 provides enhanced audio imaging, distinguishing between near and far field audio.
With esports athletes' Audio EQ profiles and an external USB sound card for precise tuning, players can elevate their game. The Pro X Gaming Headset is a game-changer in competitive gaming, offering unmatched performance for victory on any battlefield.
Logitech G Pro Gaming Wireless Mouse: Precision Redefined for Esports Pros
The Logitech G Pro Gaming Wireless Mouse, developed with insights from over 50 esports professionals, dominates the competitive gaming arena. Combining the perfect shape, weight, and feel with LIGHTSPEED wireless and HERO 25K sensor technology, this mouse ensures unparalleled precision and performance for victory.
HERO 25K, the next-gen gaming sensor, delivers flawless tracking at speeds over 400 IPS without any spin-outs. With a DPI range from 100 to 25,600, HERO 25K guarantees accuracy without smoothing or acceleration. The innovative endoskeleton design provides an ultra-lightweight 80-gram frame, offering tournament-ready strength.
The advanced LiPo battery offers long-lasting and lightweight wireless gaming, while the removable side buttons make the PRO Wireless mouse ambidextrous. Customizable ~16.8M colors with LIGHTSYNC technology add a personal touch, while onboard memory stores preferences for seamless usage on various systems.
Engineered with precision, endurance, and durability in mind, the Logitech G Pro Gaming Wireless Mouse elevates esports players' performance, epitomizing the highest standards of professional gaming gear.
Logitech G913 TKL Wireless Gaming Keyboard: Unmatched Performance in a Sleek Design
The Logitech G913 TKL Wireless Gaming Keyboard (Tactile) revolutionizes gaming peripherals with its breakthrough design and performance. Featuring LIGHTSPEED pro-grade wireless, advanced LIGHTSYNC RGB, and low-profile mechanical switches, this compact keyboard offers the utmost in gaming precision.
Crafted with premium materials, the G913 TKL boasts an elegant 5052 aluminum alloy top case and steel-reinforced base, ensuring durability without compromising on its sleek profile.
The aluminum volume wheel delivers precise control, while soft-touch media control buttons enhance user experience. The high-performance low-profile GL mechanical switches offer the responsiveness of traditional switches in a comfortable design.
Customize lighting effects and brightness with onboard controls or create up to two lighting profiles using G HUB software. With onboard profiles and game mode, the G913 TKL becomes the ultimate command center for PC gaming.
Experience unparalleled gaming performance with the Logitech G913 TKL Wireless Gaming Keyboard, a masterpiece of design and function.
Level up your gaming setup and seize this opportunity to save big with Logitech's 8.8 Back-to-School Sale. Shop now and elevate your gaming experience like never before!
Available online and at local shops
Logitech accessories are available at the Logitech Official Store in Shopee and other partner retail stores nationwide. Logitech products are also available at partner outlets, PC Express, Silicon Valley, DataBlitz, Octagon, Electroworld, Complink, iTech, Techwarez, Gameone, Interpace Computer Systems, GameXtreme, TTI, GameOne, DynaQuest PC, Digi-Serv Solutions, Concept Computer, NUTECH, DFE (Davao Futurebright Enterprises), Villman, PCWorx, Abenson, Digistore, and Greenware.
Visit the Logitech website and official Facebook Page to learn more.