A new year often inspires new beginnings.
For many, a fresh start signifies exciting possibilities, new hope, and optimism—something that has become especially relevant today in the midst of this ongoing pandemic. It could mean a new set of self-care goals, a better job opportunity, or even something as grand as a brand new home.
Indeed, what better way to start the year right than to be in your brand new home in a secure, beautiful community, where you and your loved ones can create new happy memories?
Crown Asia, the premium residential arm of Vista Land and Lifescapes Inc., offers you that meaningful opportunity to create beautiful beginnings in your new home. With its ready-for-occupancy (RFO) homes and condominium units, Crown Asia allows you to have your fresh start in vibrant, thriving communities where your convenience and well-being are prioritized.
Its wide and impressive portfolio of offerings do not only provide options for quality homes, but also numerous benefits that come with a strategic location, proximity to key establishments and institutions, and world-class amenities to ensure a more holistic lifestyle.
Here are a few options you might want to consider for your new beginnings in this new year.
For those looking for a house and lot, consider this 18-hectare community along Daang Hari Road in Bacoor, Cavite, which evokes the beauty of Italian homes set against natural sloping terrains.
Ponticelli—which takes its name from the Italian words "ponti" (bridge) and "celli" (skies)—offers a serene, conducive environment to raise families with its pocket parks, community amenities and luxurious, spacious homes with lot sizes that range up to 232 sqm. One advantage is Ponticelli's proximity to the capital region as it is highly accessible via Alabang, Muntinlupa, and Las Piñas City.
Bask in the unique charm and romantic vibe of Italy in Valenza, a 22-ha thriving community in Sta. Rosa, Laguna. It paints a picture of a quaint, lovely countryside with its luxurious Italian-inspired houses, alongside gorgeous statues, fountains, walkways, and lush pocket gardens.
Despite the rustic vibe it exudes, this Crown Asia community boasts of a highly strategic location that places you at the center of all modern conveniences—premium grade offices, top schools and hospitals, commercial centers, and leisure hubs. Its proximity to major thoroughfares such as South Luzon Expressway and Cavite-Laguna Expressway easily makes Valenza a gateway to popular tourist spots like Tagaytay, even while being just an hour and a half from the metro.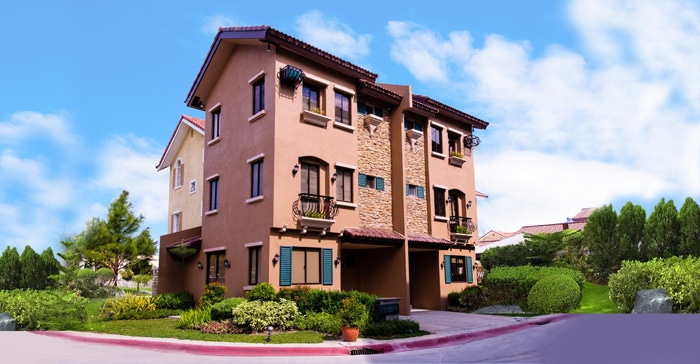 Enjoy laidback Northern California living at Crown Asia's Carmel, located along Aguinaldo Highway in Bacoor, Cavite. Sophisticated homes in spacious lots, as well as choice amenities, ensure stylish comfort and convenience for its residents.
Here, you can revel in its serene surroundings while still enjoying the benefits of urban living. Thanks to the Manila-Cavite Expressway, Carmel is just a few minutes away from Metro South, enabling you to move around with ease.
Meanwhile, the 3-ha Vivace in Imus, Cavite is an exclusive village that offers another great Italian concept with its beautiful themed houses, charming pocket gardens, parks, and playgrounds—all providing wide open spaces for you and your family.
If you're eyeing condominium units, Crown Asia has an exceptional portfolio as well.
Consider the 2.5-ha Valenza Mansions in Sta. Rosa, Laguna, which offers that much sought well-balanced lifestyle for the discerning upscale market. This premium Italian-inspired community is the first mid-rise condominium development launched in Sta. Rosa, with different cuts, ranging from studio to three-bedroom units, catering to varied lifestyles and preferences.
The Meridian is a flourishing mid-rise residential real estate development that brings the comfort and opulence of modern conveniences to Bacoor, Cavite. With its resort-inspired amenities, abundant lush open spaces, and landscaped pocket gardens, The Meridian gives you a "weekend getaway" for a home—be it a one-bedroom or a two-bedroom unit.  
Pine Suites Tagaytay is Crown Asia Properties' first and only condominium development in Tagaytay City. Nature sets the mood here at Pine Suites. Spend time in stress-free, cozy privacy endowed with nature's offerings and carefully laid-out amenities within a serene mountain setting intended for quiet relaxation, happy family bonding, and friendly get-togethers. Pine Suites offers ready-for-occupancy units that offer easy move-in options. Its studio and two-bedroom unit offering give a premium space for investors who are eager to witness their lifestyle unfold.
Indeed, these RFOs by Crown Asia allow you to realize your fresh start now. With its easy move-in financing scheme, you can live your best life at Crown Asia home with ease.
Let Crown Asia be your new dream home, your new beautiful beginning. For more details, visit www.crownasia.com.ph