Malick Diouf, James Spencer, and Terrence Fortea took turns in keeping the defending champion University of the Philippines out of harm's way in overtime as the Maroons escaped from a gritty Adamson Falcons' stand, pulling off an 87-78, win on Wednesday in the 85th University Athletic Association of the Philippines men's basketball tournament at the Philsports Arena in Pasig.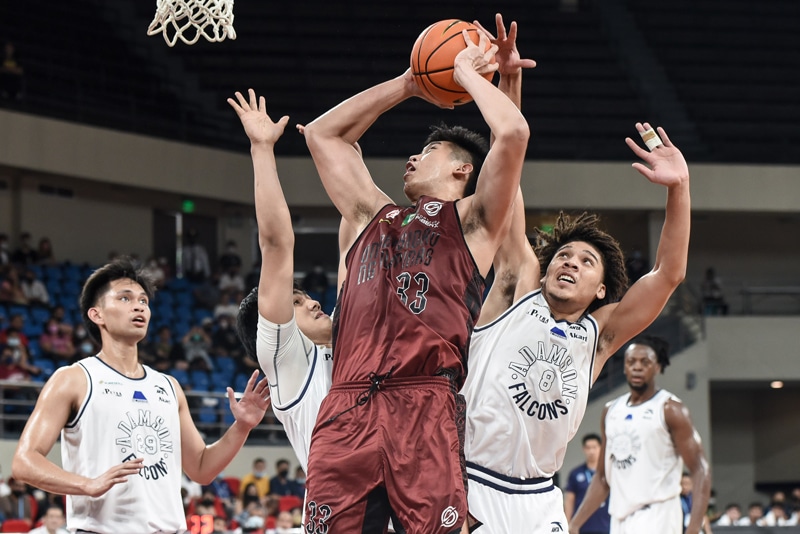 Spencer, Fortea and Diouf struck in succession in the last 2:28, allowing the Fighting Maroons to move away from a 74-all regulation deadlock and into an 82-74 lead.
Their efforts gave UP enough room to post their second straight triumph.
Zavier Lucero shot a game-high 15 points and pulled down 17 rebounds for the Maroons, who held the Falcons to four points in the last five minutes of action.
"We started off flat. We should have executed better," said Fighting Maroons' coach Goldwin Monteverde after they missed a chance to win the game in closing seconds of regulation.
Diouf knocked 13 points and 12 rebounds for UP, including a split charity in the last 1:10, which allowed the Diliman dribblers to stay safely in front, 74-71.
They, however, lost their winning chance with 1/10th of a second to go in regulation.
UP successfully screened a three-point from Jeron Lastimosa, but JM Sabandal sank three charities in the next plays after he lured Spencer into a foul, sending the game into an extension.
"UP wanted it more, especially after they made a big run after halftime," said Falcons' coach Nash Racela on their second straight setback.
Earlier, the University of the East Warriors drew 25 points from Kyle Penaranda in halting 15-game losing skid with a 76-66 upset of the Far Eastern University Tamaraws.
The Red Warriors got away with a 25-8 third quarter assault and coasted to their first win in two outings.
This marked UE's first ever win since beating National University, 79-77, back in 2019.
"Meron lang kaming lapses down the stretch but still, the bottom line is the game plan was followed. I thank my boys, especially si Kyle (Paranada)," said UE coach Jack Santiago.