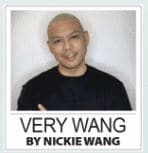 Willie Revillame's  Wowowin  may possibly return to the airwaves starting on October 2 on PTV-4 and IBC 13.
According to People's Television Network's (PTV) general manager  Anna Puod, the  show is under a tripartite discussion with IBC-13 and the game show icon.
"They are waiting for the Ghost Month to end before making any decision and Willie doesn't want a noontime slot," Puod told showbiz press on September 8 during the network's press conference at PTV Studio A, Visayas Avenue, Quezon City.
"Under negotiation, that's the operative word. It's a tripartite discussion with IBC 13, PTV, and Willie," Puod emphasized. "So, the process is taking a while. There are still many details to work out. But all of the parties are hoping for a very positive outcome of our negotiation."
During the same event, PTV announced significant changes and improvements to its television programming. It has unveiled a lineup of new programs as part of its comprehensive programming transformation, aimed at delivering more timely and pertinent content while broadening its audience reach.
Puod  outlined the network's strategic blueprint: "Rebranding, Revenue, and Reorganization." She also announced the network's ambitious goal of securing a prominent position as the second-leading station in the industry.
Among the new shows is  Punto Asintado Reload  every 10:00 a.m. from Mondays to Fridays by hard-hitting veteran broadcaster  Erwin Tulfo  and fellow veteran broadcaster  Aljo Bendijo.
This will be followed by a multi-agency public forum  Bagong Pilipinas Ngayon  hosted by  Niña Corpuz  that will tackle issues and address questions on frontline services from the public and the media.
PTV also airs a half-hour program block on President  Ferdinand R. Marcos Jr.  on weekdays at 5:30 a.m. that features  On the Ground  or a series of short documentaries by Presidential Adviser on Creative Communications  Paul Soriano.
It also includes  BBM Vlogs  which provide a look at the day-to-day activities of the chief executive.
Investigative stories will be shown through  On Assignment  hosted by  Maan Macapagal and PTV correspondents.
A rebroadcast of the  Voice of America's groundbreaking programs through  Stories from the Grid  with  Charms Espina is also among the network's new programs, along with a comprehensive summary of international headlines in  Global Roundup  with  Monique Tuzon.
PTV also continues to deliver hourly multilingual newsbreaks in English, Filipino, and other major local languages in  PTV News Now,  PTV Balita Ngayon, and  PTV Balita Ngayon sa Probinsya.
"These new shows will add to our stable of in-house programs like  Ulat Bayan, Sentro Balita, PTV New Tonight, Iskoolmates,  and  Rise & Shine Pilipinas," said Puod.
"We're excited to create more engaging content in the coming days; more watchable, dynamic programming that's attuned to the viewing habits of today's digitally connected Filipinos," the TV executive ended.