SM Megamall's Mega 5-day sale is offering incredible deals on fashion and beauty. Whether you're a trendsetter or just want to refresh your style, check out our shopping list for the best finds.
1. Uniqlo Ribbed Square Neck Cropped T-Shirt
2. Cotton On Reece Midi Slip Dress
If you're looking for a versatile, trendy, and comfortable piece that can effortlessly elevate your style, you've found it. This shirt has a ribbed fabric that provides a perfect fit with a sleek, square neckline detail. (Retail Price: P590.00; Discounted Price: P 390.00
Tailored to a chic and elegant midi length, this bold-bloomed mini promises all eyes on you with its cheeky sweetheart bust. (Retail Price: P1,999.00; Discounted Price: P1,000.00)
3. Trendy Outfit from H & M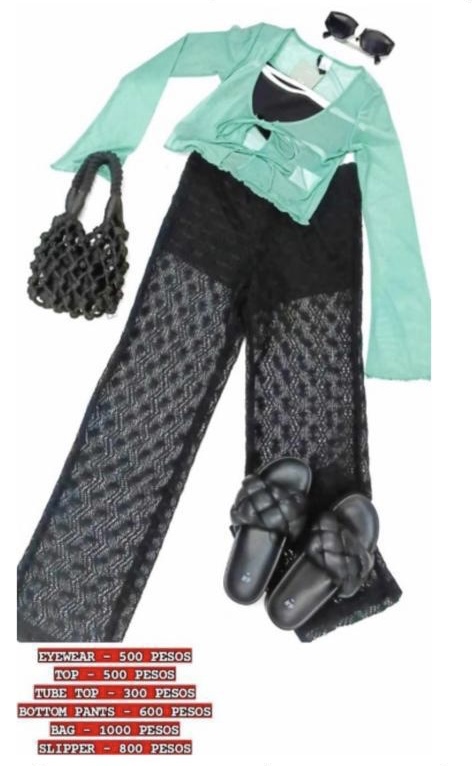 Are you ready to make a bold fashion statement, turn heads, and set trends wherever you go? This outfit from H & M has been carefully curated to help you unleash your inner fashionista and showcase your unique style. (Discounted Price: 50 percent off)
4. New Balance Nightwatch Green and Rust Oxide
When it comes to sneakers, New Balance is a name synonymous with quality, innovation, and style. Their sneakers are not just shoes; they are a lifestyle choice. (Retail Price: P6,495.00; Discounted Price: P5,196.00
5. Charles & Keith Metallic Accent Chunky Platform Penny Loafers
Versatile in both color and design, these polished penny loafers deserve a spot in every
fashionista's wardrobe. In a chalk colorway and crowned with a gold-tone metallic accent, this pair is sure to add glamor to your ensembles. Set on chunky lug soles, they pack a style punch and offer a height boost. Easy to wear and effortless to style, wear them on your work days and the weekends. (Retail Price: P3,799.00; Discounted Price: P1,899.50)
6. Adidas Supernova 2.0 x Parley Shoes
Who says running needs to be uncomfortable? These shoes are designed to help you run comfortably every time, on any terrain. From a precisely balanced mix of Bounce and increased BOOST in the midsole to a new padded tongue and heel patch construction, experience comfort with every step. (Retail Price: P6,000.00; Discounted Price: P4,200.00)
7. Miniso Square Lattice Pattern Crossbody Bag
Get ready to make a bold fashion statement and add a pop of color to your outfit. Look no further than this Miniso bag. It's not just a bag; it's a versatile accessory that can transform your entire look. (Retail Price: P499.00; Discounted Price: P399.20)
8. Herschel Supply Co. Settlement Case Accessories
Accessorize and make a fashion statement while championing environmental responsibility. This item is a versatile mini-case that combines style, functionality, and eco-consciousness. (Retail Price: P1,790.00; Discounted Price: P1,490.00)
9. The Body Shop Tea Tree Range
Feel beautiful and take control of your skin with The Body Shop's Tea Tree range. Its ethically sourced skin care products come in bundles and big discounts if you get them in their previous packaging. (Discounted Price: 30 percent off on Old Pack Tea Tree Range)
10. Yves Rocher Anti Hair Loss
Are you tired of worrying about hair loss and thinning hair? It's time to take control of your hair health and regain your confidence with Yves Rocher's cutting-edge Anti Hair Loss product line. (Discounted Price: Up to 50 percent off
Go on, unleash your inner fashionista and sense of beauty at the Mega-5-Day Sale. With our meticulously crafted shopping list in hand, you will be well-prepared to seize the hottest fashion trends and beauty essentials at unbeatable prices. So, embrace the glamor, be savvy with your choices, and let your style shine without compromising your budget.The Mega 5-Day Sale runs until October 1.