Clark Freeport Zone—Daniella Uy dusted herself off a previous setback that ruined a three-straight title drive and went right back at it, shooting a stunning eight-under 64 yesterday to secure the ICTSI Mimosa Plus Championship yesterday and emerge the winningest player on this year's Ladies Philippine Golf Tour.
What was expected to be a wild, down-to-the-wire battle among three of the Tour's top guns turned into a five-shot cakewalk for Uy, who cranked up her final round charge with two frontside eagles, leading to a 31 and a two-shot cushion after starting the final round one stroke behind Harmie Constantino (34) and Mikha Fortuna (35).
But the Forest Hills and Del Monte legs winner proved she's far from being finished as she kept on powering up, hitting three birdies in a five-hole stretch from No. 11 in a solid backside run that anchored her runaway victory on a 54-hole, 14-under 202 total at Mimosa Plus' Acacia course here.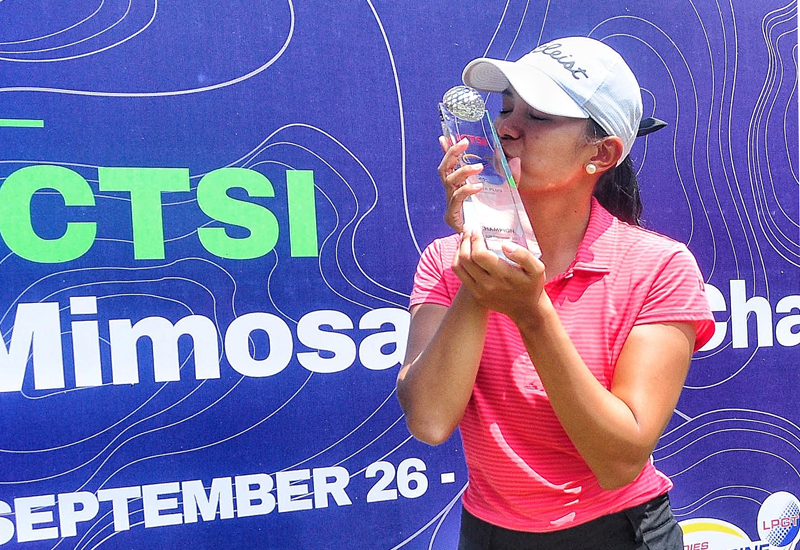 "My 2 eagles did help me win this one," said Uy, who drained a seven-foot putt off a wedge second shot from 126 yards on the par-5 No. 5 then set up a three-footer for another eagle on the next long hole on No. 9 off a 7-iron shot from 156 yards.
"After leading by three on No. 11, I still went for the par-5 14th and made another birdie. That further boosted my confidence and I made another (birdie) on the next," added Uy, who banked P120,000 for her latest feat in the circuit put up by ICTSI.
Despite yielding the lead on a three-birdie, one-bogey card at the front, Constantino had hoped to wage a charge in the last nine holes. But mishits and missed putts dropped the Luisita and Villamor legs winner farther back, ending up with a run of pars for a 70 and solo second at 207. She received P85,000.
Fortuna, whose solid opening round 65 sparked hopes of a breakthrough stint for the Oklahoma U product, rebounded from a bogey on No. 7 with two straight birdies from the next and stayed within three shots off Uy with a birdie on the 11th.
But she double bogeyed the par-5 No. 14 to all but drop out of the title race and needed to birdie the next to save a 71 and tie for third with Korean Seoyun Kim at 208. Each got P66,000.
The young Kim, who started the round four strokes off Fortuna and Constantino, also rallied with an eagle-aided frontside 32 and went five-under with another birdie on the 10th. But she bogeyed the 14th and holed out in birdie-bogey-birdie fashion for a 67.
Uy's margin of victory thus surpassed amateur Rianne Malixi's previous season's biggest four-shot romp over Chihiro Ikeda in Iloilo last March and it augured well for Uy's upcoming campaign in the second stage of the Japan Qualifying School next month.
"I'm leaving tomorrow (today) for Japan for the Q-School in Ibaraki. I need to work double-time in practice to familiarize myself with the course and this win is a big confidence-booster," said Uy, who thanked her family and friends for their continued support, including her backers GolfX, Januarius and Titleist Philippines.
Uy, who scored her LPGT breakthrough at Riviera in bubble setup in 2021, actually fell by two as Constantino, who tied Fortuna in the lead with a fiery second round 66 Wednesday, birdied No. 3. But the former Junior World champion switched on the attack mode, coming up with two big shots that led to her first eagle, a couple of birdies that sandwiched her lone miscue on No. 7, and another eagle-3 on the ninth.
She then birdied No. 11 to pull away and holed out with back-to-back feats from No. 14 to blow the field away so unlike in her one-shot triumph over Florence Bisera at Forest Hills and her come-from-behind two-stroke win over Kim and amateurs Mafy Singson and Velinda Castil at Del Monte.
Min Yeong Kim, also from Korea, placed fifth with a 209 after a 70, while Sarah Ababa struggled with a 73 and wound up sixth at 213, and Bisera failed to sustain a solid second round 66 with a 74 and fell to seventh at 215.
Apple Fudolin and Ikeda matched par 72s for 217 and 218, respectively, while Gretchen Villacencio carded a second straight 71 and a 219 for 10th in the 10th and final leg of this year's circuit backed by Kampfortis Golf, the official apparel of the organizing Pilipinas Golf Tournaments, Inc.