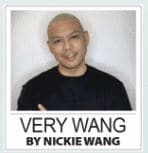 Comedian and TV host Joey de Leon has given his approval for the revival of the prank show Wow Mali, which premiered on Saturday on TV5 and Buko Channel.
During a recent press conference, the new hosts, Jose Manalo and Wally Bayola, said that they received the blessing of the original host.
Known as the original prank show in the Philippines, Wow Mali gained immense popularity when it first aired in 1996. With its hilarious candid camera pranks and the witty hosting of Joey De Leon, the show became synonymous with practical jokes, bloopers, and playful tricks.
Wow Mali: Doble Tama, meanwhile returns with upgraded mischief, humorous gags, and clever antics.
"We thought they might be fooling us. They know we're in a tight spot," Jose said. "Maybe they're pranking us," Wally chimed in alluding to their first reaction when the project was offered to them.
"We went straight to Boss Joey because we were worried about any 'wow mali' (mistake). We just wanted to have a good time," Jose shared.
There were no extensive words of wisdom or advice; instead, conversations about life and careers were rich with sagacity.
"Boss Joey isn't very talkative. The TVJ (Tito and Vic Sotto and Joey de Leon), when they tell stories, you need to listen because there's something you can learn from the stories, and at the same time, those are the things they give to you. Too bad if you don't understand.
"Boss Joey was the same when he said, 'As long as you're okay, I'm okay.' It's like he has complete trust in us, so we're grateful. Hopefully, we can measure up," Jose said.
Co-produced by APT Entertainment and Cignal TV for TV5, Wow Mali: Doble Tama airs every Saturday at 6:15 p.m. on TV5, and 7:00 p.m. on BuKo Channel.